Gary Packer, PLS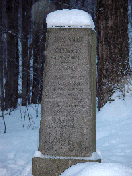 Packer Associates, Inc. is licensed in the State of New York and the Commonwealth of Pennsylvania. In business since 1975, our company provides many types of surveying and mapping services to our clients. Our specialties include: land surveys, topographical surveys, ALTA surveys, minor and major subdivisions, flood elevation certificates, as well as many other areas. Please call or email us so we can discuss your particular needs.
To provide our clients with the best service possible, our experienced Field Staff uses the latest in electronic equipment, including GPS (Global Positioning System) technology. Our reputation demands that we produce professional and accurate surveys at any level required, for both the individual landowner who needs a simple boundary survey or for the largest subdivision development.
Our Office Staff operates in CAD (Computer Aided Drawing/Design) equipment for surveying and mapping, including Carlson Survey Desktop software products. We can provide electronic copies of survey drawings and other documents to our clients via the Web or through e-mail. Visit our Client Center page for more information.